| | | | |
| --- | --- | --- | --- |
| Poster: | Cliff Hucker | Date: | Aug 26, 2009 10:59am |
| Forum: | GratefulDead | Subject: | Da Bronx? |
It seems appropriate that Pigpen loved the Bronx!
And in spite of the sonic issues and some less than stellar playing, I have always considered the Gaelic Park show to be a gem of a performance.
Oddly, this show seems to have a reputation as being both overated and under appreciated. Perhaps its because I grew up on the other side of Riverdale, but I think it's one of Pig's finest performances, at least from the latter part of his career.
It must have been a trip of a show with the elevated trains going by! What are your thoughts about TDIH's show from the Bronx?
http://www.archive.org/details/gd1971-08-26.sbd.fixed.miller-rolfe.32351.sbeok.flac16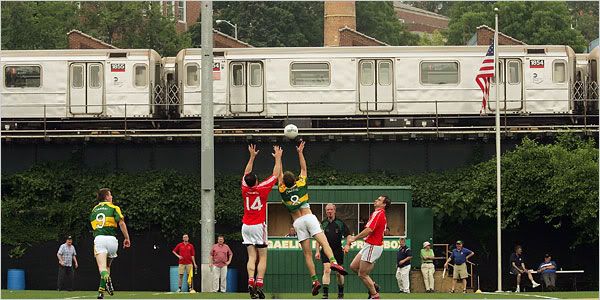 This post was modified by Cliff Hucker on 2009-08-26 17:59:03
| | | | |
| --- | --- | --- | --- |
| Poster: | elbow1126 | Date: | Aug 26, 2009 12:09pm |
| Forum: | GratefulDead | Subject: | Re: Da Bronx? |
I really like the show, but find it bittersweet in a way. It is imo the true end of the William Tell Era. While you will never here me complain about what Keith brought to the band and the music they made over the subsequent years, this show does mark the end of the original band and its sound. The next show they play is in October and aside from being the first with Keith, it is also the first for so many songs that will shape their sound in the following year.
| | | | |
| --- | --- | --- | --- |
| Poster: | Death&Mercy | Date: | Aug 26, 2009 3:34pm |
| Forum: | GratefulDead | Subject: | Re: Da Bronx? |
A strong vocal show. Tunes like Cumberland and UJB are performed well. A good to very good H2H as well.
Overall, good but not great.
| | | | |
| --- | --- | --- | --- |
| Poster: | deadmax | Date: | Aug 26, 2009 7:28pm |
| Forum: | GratefulDead | Subject: | Re: Da Bronx? |
Cliff, this has been one of my favorite shows for a very long time. It may have been the first show I downloaded digitally from a now-defunct source called NYC Heads or something like that. I listened to it a LOT and loved it. I started downloading much more music and it became somewhat of a nostalgia show for me because I think I downloaded it in the last millennium. So I go to look for it last year and I had shipped it to BigDumbOx and didn't even realize it. So I didn't have it anymore and I was very sad about that. I mentioned on DH that I didn't have it and GoP hooked me up and I've been enjoying it ever since.
This probably sounds like one of the reviews in the Audio section here where they only talk about it being their first show or whatever and somehow forget to review the actual music. Brilliant I'm sure.
| | | | |
| --- | --- | --- | --- |
| Poster: | hippie64 | Date: | Aug 26, 2009 2:55pm |
| Forum: | GratefulDead | Subject: | Re: Da Bronx? |
Jerry sets the pace from the start, Phil is psyched it sounds like he wanted a fatter Bertha than Jerry did. They nail it completely. ! I missed my time on earth by 20 years cause I would have loved to be one of the groovin, happy hippies that day in the park . This show makes me want the AUD copy of this rec. just to listen to the joy.
Bobby wasted a great opening by Jerry for Playin. He (Bobby) stumbles a little bit but recovers the vocals. His gutiar ( Bobbys ) defineitly goes out of tune , maybe jerrys to.
Grate Pig! His vibrance realy shines on this Mr. Charlie as well as some fine blues licks by Jerry.
I really love evry aspect of jerrys guitar playin Only late in his life did I find questionable guitar tatics by Jerry.
This Sugaree is a perfect example, full of dynamics the layman can barely fathom, but probably enjoyable to most any ear that gives this a try.
There is an undeniable edge as it were to this show, tuning problems seem to abond (bobby agian ? )
I admire Bobby's ability to get back in the saddle for this El Paso, Measured through construting
the song instead blasting through it, grate job by the band all through out "... Its getting much harder for me to stay in the saddle...", the wobble there by bobby sounded tired, who can blame them really, Can't be easy being a travelin Rock and Roller.
Pigpen really does shine with an understated demeanor throughout this Big Boss Man, Phil is staring to make his presence felt here too. The band is pumping at steady pace, Jerry has a good command of the band to bring the boss home nicely. Another tuning finds Jerry ready compliment BBM w/ a rollin Big Railroad Blues, Nice and bright with plenty of Phils doghouse sound .
GIVE IT TO ME ! I love Pigpens growl on this Hard to Handle I 'm no expert here but for me Pig is having a great show despite the ( technical?) issues of sound and road weariness that are evident. Jerry's well into stride in this HTH. These are some jerry licks I've never heard before, Ass Whupin blues really. Amazing throughout that whole jam, agian I want the AUD rec so I can feel the crowds vibe.
BIODTL finds feedback at the beginning but Phil turns it down and works to join a pretty good jam.
This Beat it Down the Line does recover somewhat in to a nice conclusion. Loser starts w/ agian some tuning issues, the whole band (except dummers). Very nice on the whole. Jerry seems well in crontrol of the sound he wants for this show.
The Sugur Mag /SSDD really is nice, no technical problems here just defineitly giving the kids what they wanted to hear.
The authinticity Pigpen gives Empty Pages is beatiful and heartfelt, I love it when Pigpen and Jerry get tight like this They could go all nite in that blues groove. Agian the dynamics between Pig and Jerry are unmatched w/ any Blues act I listened to. You see it for what it is. The Blues ain't s'posed to be pretty.
Tuning probs plauge the beginning of Good Lovin, but w/ pigpen singin' it I know it gonna be all right and I'm not disappointed , GOT TO HAVE IT ! Blistering guitar by Garcia which can be brought to a whisper at any inflection in Pigpens voice. What a load of Good Lovin they provide here, vocal harmonies compliment the whole song.
Jerry experiments slightly w/ Casey Jones, his exploring of musical boundries is one of the largest legacies Garcia left us. A national treasure in my eyes as is the first set closer Casey Jones. I can't wait to see how this show unfolds Enjoy the 2nd Set I'm gonna
More to come I was straeming and writing then the site crashed More technical difficulties? I can relate. Long Live The Dead
Hippie64
| | | | |
| --- | --- | --- | --- |
| Poster: | spring mountain high | Date: | Aug 27, 2009 5:49am |
| Forum: | GratefulDead | Subject: | Re: Da Bronx? |
i agree with the 'end of an era' sentiments for this show...i really love the tone and tightness of the band in '71...garcia in particular seems very sharp during this show
i always wondered about how they decided to play such a place
| | | | |
| --- | --- | --- | --- |
| Poster: | deyzof49 | Date: | Aug 26, 2009 1:28pm |
| Forum: | GratefulDead | Subject: | Re: Da Bronx? |
"That was impressive, whatever it was"....Great show.
| | | | |
| --- | --- | --- | --- |
| Poster: | dead-head_Monte | Date: | Aug 26, 2009 2:48pm |
| Forum: | GratefulDead | Subject: | Re: Da Bronx? |
Nice call, Cliff. Bertha starts out a bit slow. The moment I under-appreciate, there's Phil doing his licks and runs - turned up in the mix. I'm grounded. And the tone on Jer's axe is sweet. They're pretty tight and professional. It's a very good mix. The dynamic range is awesome. Phil punches his way into Sugaree, dropping bombs. Pig's voice is just a bit strained in Mr Charlie, yet it sounds fine in Big Boss Man. Good Lovin' is outstanding. Who woulda guessed he'd need to take off the next 3 months (according to the reviewers)? Nice show.
Wouldn't this be Jerry Moore's neighborhood? My best guess is Jerry M and I were the same age. We both made the scene in 1973. And I never saw Pig play. I just missed it. I could have walked or ridden my bicycle to this show. Gaelic Park is just under 10 miles from the Teaneck Armory, if you use GW Bridge. I grew up just across the Hudson, in Bergen County. That train is surreal. I saw many of those trains roll along the east side of the Hudson River while I was across the river hiking along the Palisades Cliffs. I met my first bunch of DeadHeads nearby there in fall '72. We got busted together for some weed. My 1st show was with them at Nassau Coliseum, March 15, 1973. And I was violating my probation - traveling out of state w/o permission - at RFK Stadium in June.
I'm still getting chops on effectively locating "any show." I found the
torrent info for shn id 32303
. It's a Miller SBD. It shows one seeder going slowly - oops, it just stopped. I'm leeching here. The Bus has Project 1971 part 7 as including this source. It's a collection torrent and includes shn id 32351, which is an upgrade. It shows no seeders. The database shows 2 AUDs were taped there also. Wow. Outdoors is where it's at for the best sounding shows.
The Archive just crashed.
| | | | |
| --- | --- | --- | --- |
| Poster: | Cliff Hucker | Date: | Aug 27, 2009 5:28am |
| Forum: | GratefulDead | Subject: | Re: Da Bronx? |
The trains running along the east bank of the Hudson are the Metro-North railroad. The elevated trains running through Kingsbridge and by Gaelic Park (now owned by Manhattan College) are part of the NYC subway system.
You didnt go to the Dwight Englewood school?
| | | | |
| --- | --- | --- | --- |
| Poster: | dead-head_Monte | Date: | Sep 12, 2009 9:19pm |
| Forum: | GratefulDead | Subject: | Re: Da Bronx? |
no, I'm just a punk from Bergenfield. BHS - class of '69.
Here's looking back at you, man.

me on the cliffs in Alpine, NJ - circa 1983

This post was modified by dead-head_Monte on 2009-09-13 04:19:33
| | | | |
| --- | --- | --- | --- |
| Poster: | pigpen_81 | Date: | Aug 27, 2009 1:54am |
| Forum: | GratefulDead | Subject: | Re: Da Bronx? |
Part seven is now seeding if you like ; )